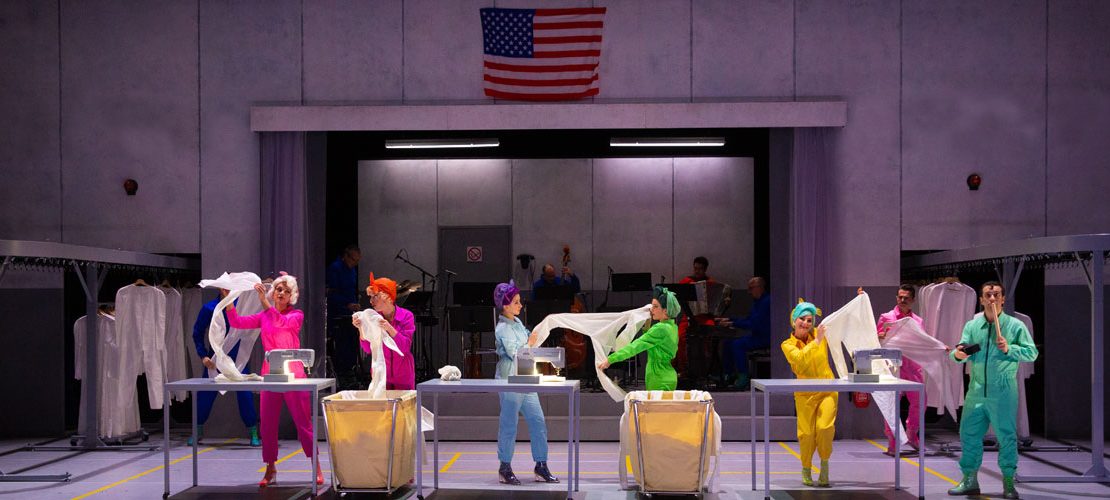 The Pajama Game
After Bells Are Ringing, Jean Lacornerie and Gérard Lecointe return to the Golden Age of musicals with The Pajama Game, a great Broadway classic by Jerry Ross and Richard Adler. Never before performed in France !
Unlike what its title could suggest, The Pajama Game is a musical about the labour work taking place in a sewing factory.
Deep in the heart of Iowa, the pajama factory « Sleep Tite » is all upside down : the women workers are rebelling against the male management and what is at stake is a pay rise of 7,5 cents. The strike is lead by Babe, a young trade unionist who simultanuously and secretly falls in love with the handsome new manager hired to solve the crisis…
Things are unlikely to get sorted quickly… However, a musical ought to have a happy ending and the women workers will eventually prevail.
The production speed and targets along with management methods are put to music, relationships between social classes are choreographed and personal ambitions are sung loudly in an explosive mix of energy and irony. That's something to surprise French audiences for whom American musical is a genre only dealing with light-hearted subjects. And the genius of Broadway is precisely to know how to pick on current topics and successfully put them into songs
This show has been produced at the Théâtre de La Renaissance in Oullins and at the Théâtre de la Croix-Rousse in December 2019 before going on tour in Spring 2020.
special concert
Sunday, january the 26th at 1pm, all the artists of The Pajama Game gathered for a live special concert at Le Carreau du Temple — Paris and on air on radio France Musique with Laurent Valière, 42ème Rue.
on tour
Le Nest – CDN Thionville Grand Est, 08/01/2020
Opéra de Rennes, from 28/01 to 01/02/2020
Grand Théâtre, Angers, on 05 & 06/02/2020
Théâtre Graslin, Nantes, from 09 to 13/02/2020
La Maison – Maison de la Culture Nevers Agglomération, on 18/02/2020
Le Théâtre, SN de Mâcon, on 21/02/2020
Maison de la Culture, Bourges, on 03 & 04/03/2020
Opéra Théâtre – Clermont-Ferrand, on 19 & 20/03/2020
Le Théâtre – SN de Saint-Nazaire, on 01 & 02/04/2020
Opéra de Saint-Étienne, on 08/04/2020
videos
contact
Keraghel Georges
head of production